I will teach you the procedures I use to confidently bathe cats with my proven slow introduction and low-stress handling techniques.
Written by Lexie, a qualified Veterinary Nurse and Master Cat Groomer with over 15 years' experience.


Course content in English (AUS) but open to the world.

Want to learn procedures to bathe cats, without the scratches, mess, and force?
Want to be taught standards by an
experienced Cat Groomer,
who has used these techniques for over 15 years in a Cat Grooming Salon?

Want to learn all of this online,
at your own pace?

You've come to the right place!
Sample of course videos
Please note this is a small sample of the course videos. There is course content not included in video format.
There is over 1.5 hours of video in this course.

Prerequisites
Whether you are working for a grooming shop, a veterinary clinic, or a cattery, it is recommended to have cats available to practice your grooming, to have the full effect of the course.
This course is theory and knowledge-based, with video demonstrations on real cats of varying temperaments.
You may simply choose to watch the videos and complete the course for practising at a later date. You can go back and forth as desire, even when completed.
For practising on cats, I recommend shorthair, longhair, and different temperaments. You are also welcome to contact me during your training with any questions and grooms you have completed.
The pet owners of the cats must be advised that you are training in cat grooming, as accidents happen. Insurance is required to cover your training premises and models. This is your responsibility.
Basic behaviour and handling are included, but an in-depth course such as 'behaviour for the cat groomer' would benefit assessing the client and prevent injury to you.
Course equipment recommendations here

Learning Objectives
Knowledge of basic signs of stress
Understanding of procedures to hand wash a cat using slow introduction techniques
Procedures of Blow-drying a cat using towel-wrapping techniques
Knowledge of bathing a cat in an emergency
Choose a shampoo based on ingredients and use
Techniques to bathe and dry a cat according to coat type
Understanding how to clip a cat's nails effectively
Knowledge of what to do if a cat flails in a bath
Can choose tools to use correctly for de-shedding based on the cat's coat length and coat type
Ability to prevent cat bites by choosing the muzzle use and monitoring the feline's stress signs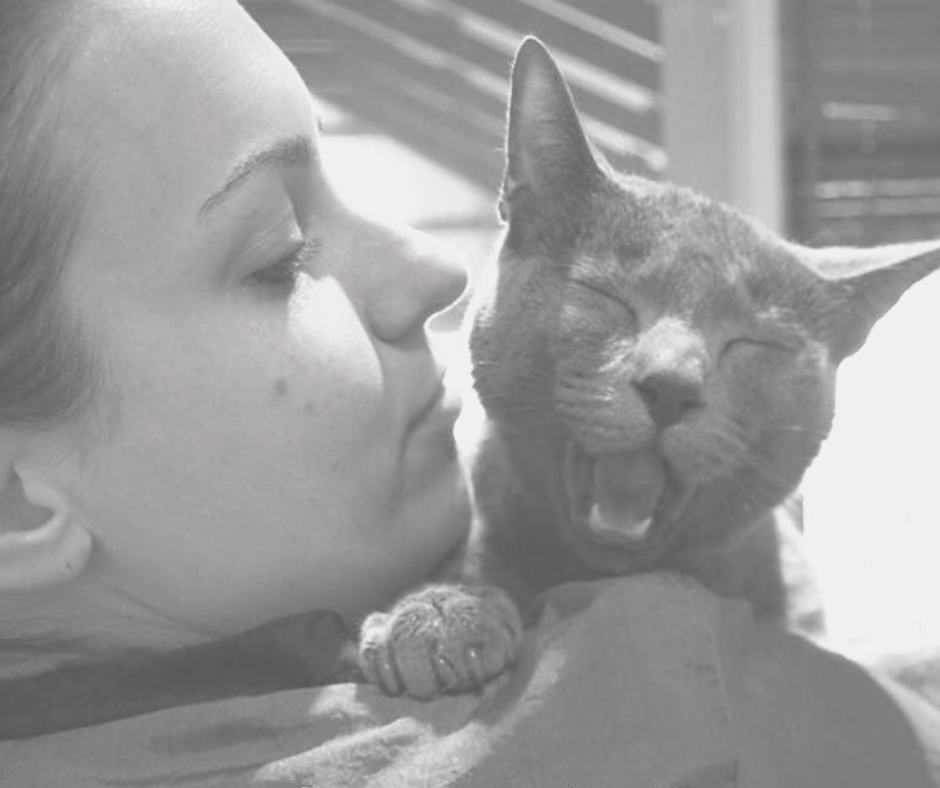 Hi, I'm Lexie, I am an Australian Cat Groomer, Certified Master Cat Groomer (London Cat Grooming School) and a Qualified Veterinary Nurse who has been grooming cats for over 13 years.
I am contacted regularly by professionals and pet owners alike, seeking help to start grooming cats or increase training. In this program I will be sharing my knowledge with you!
See my business page about me

What will you learn in this course:


Why do we bathe cats?
Bathing emergencies
What to watch for with skin issues
Product Selection
Shampoo Choice
Ingredients to avoid.
Signs of poisoning
Recommended Shampoos
Tool Choice
Types of combs and brushes and their uses
Dryer Choice
Grooming based on coat types.
Towels
Ear protection
Making Ear Protection
Restraints, behaviour and handling
Removing the cat from the carrier (video)
Signs of stress- Subtle, medium, extreme
Cat reactions- Four F's
When to stop the groom (stress)
How to deal with an out-of-control cat (video)
Restraints and muzzles
Why not tether?
Prolonged Stress
Cat Bites First Aid
PPE
Nail Clipping
Bathing
Hydro bath use
Setting up and area preparation
Tools Checklist
Bathing instructions and video
Avoiding escapees and bites
Towel Wrapping
Blow-drying
Kitten Grooming
Finishing
The finishing comb (video)
Client checkout
Test your learning
See our students feedback
Cathie Winn, Cat Groomer and Feline Behaviourist. Bathing the Feline, Clipping the Feline.
"Lexie explains grooming methods very well and shows them clearly in the videos. I have found both courses I have done, had parts I have now included in my own grooming. The courses have helped me immensely in showing I was doing grooming the same way and gave me more confidence in my methods."
Joanne C. Professional Groomer. Clipping the Feline, Bathing the Feline student.
"Definitely recommend anyone wanting to groom cats to do this course. As a dog groomer being able to add cats to my business has been a real advantage. Lexie's course has taught me so much and instilled confidence. My grooms and handling skills have improved 100%."
Brianna E. Veterinary Nurse Received One-on-one training
"Being a vet nurse, I felt it important to learn how to groom cats. Lexie taught me this in a very professional and friendly manor. I observed her and was talked through it first, before having a go myself. It was much more difficult than I thought - especially when you have a strong cat like my Tom! There's a lot more to it than just shaving them - multiple different brushes & clipper blade techniques, handling techniques and very importantly, making it a stress free experience as much as possible to the cat..... I can't recommend Lexie enough!"
Naomi F. - Professional Cat Groomer, Received One-on-one training
"Lexie's calm, careful, thorough training turned the daunting idea of washing a cat, into a skill set that has added growth to my business and allowed me to indulge my passion of felines! I am very proud to tell clients I was taught by Lexie."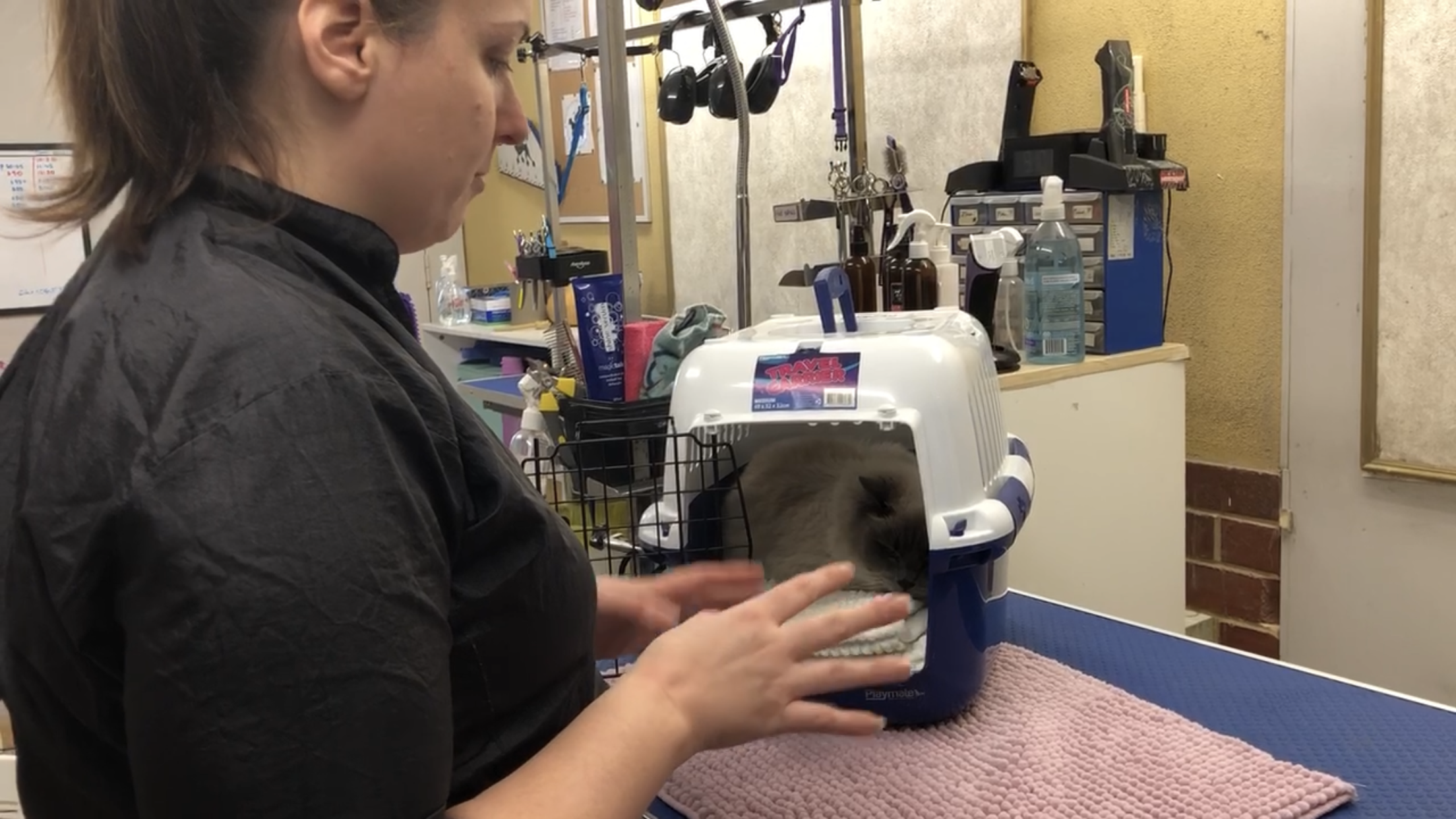 From Check in
Behaviour types and reactions. Know when to not groom a cat or when to stop grooming.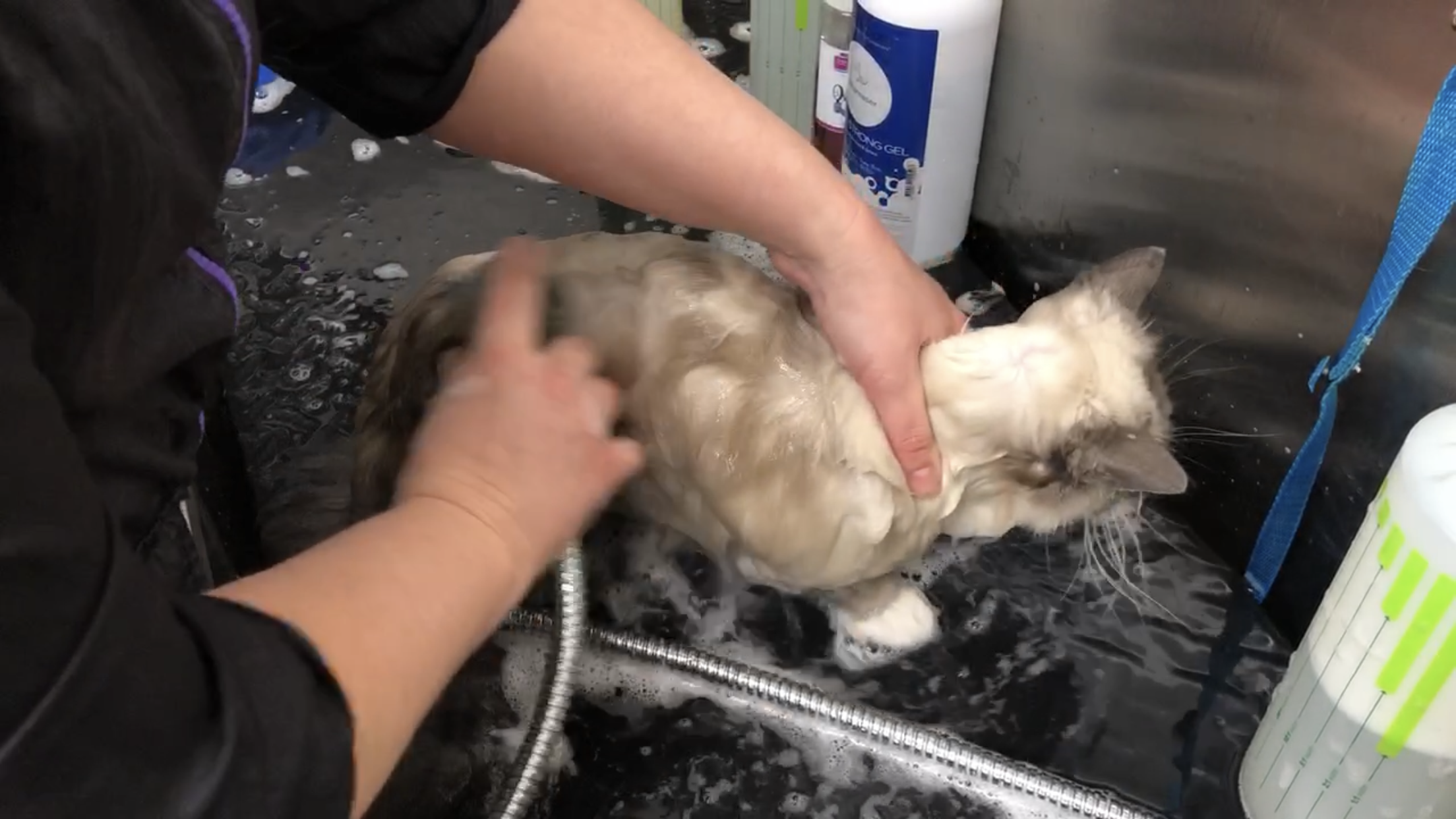 Bathing and everything for the bath
Product and Tool selection.
Choose products based on ingredients and their use.
Bathing set up.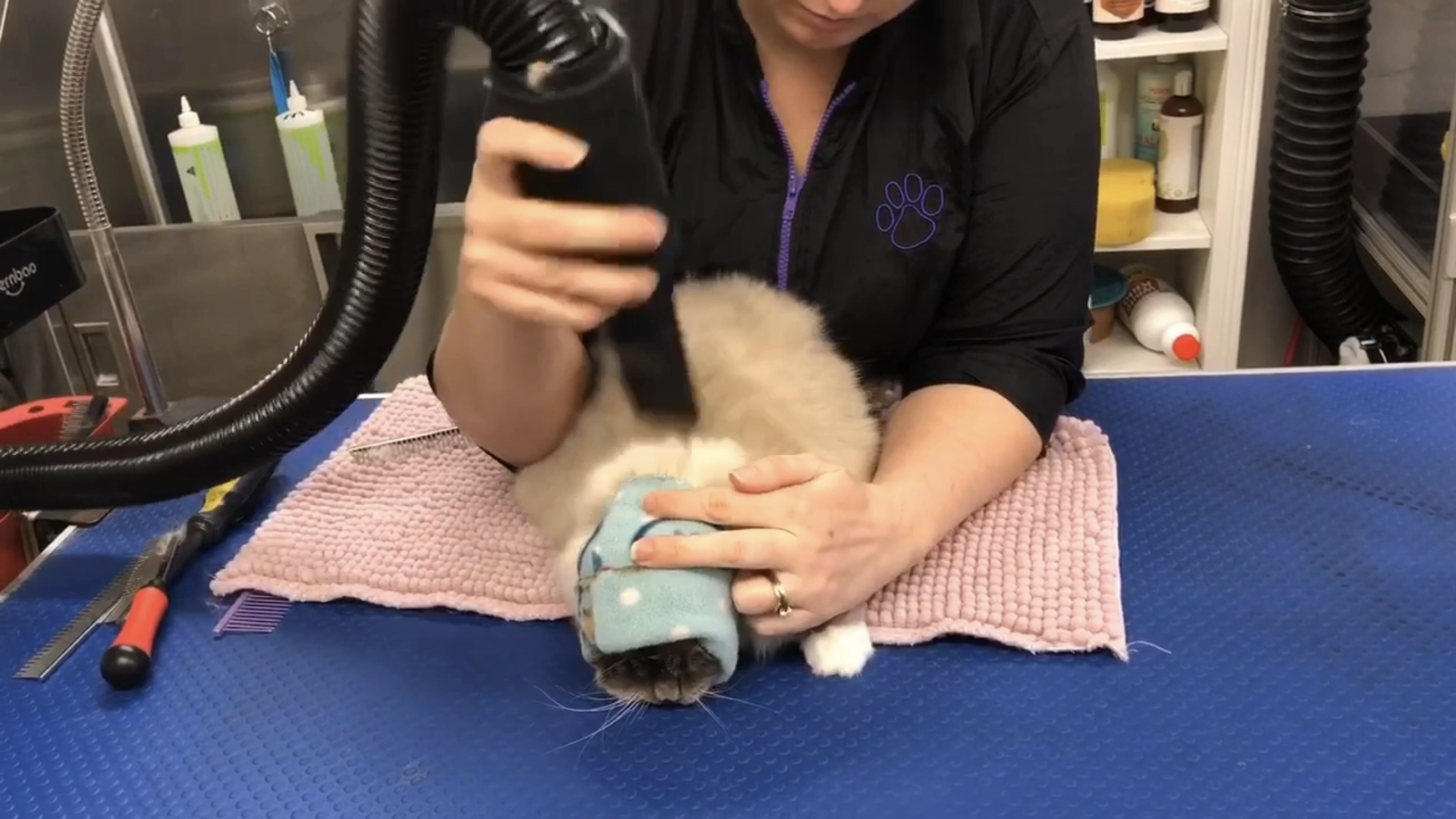 Blow-drying and finishing.
Blow-drying and handling techniques to finishing and rebooking.

FAQ's


Who are the courses for?
This course is for those working with cat as groomers, cattery assistants, animal attendants, veterinary nurses, grooming assistance or looking at getting into cat grooming.
What equipment do I need?
See full list of recommendations here
What kind of Cat Grooming techniques do you teach?
I teach low stress handling and proven slow introduction techniques. For clipping I use all lengths from 10 to 3F blades and Comb Clips, bath and de-shedding.
Do you demonstrate de-matting techniques?
No, I do not recommend de-matting cats that are severly matted, there is too much risk and adverse effects of doing so. We recommend clipping severe matting.
Do I receive a Certificate?
Yes, once completed all Lectures and the quiz, you receive a Certificate of Completion.
What if I am not happy with my course?
You are entitled to a refund within 30 days of purchasing the course if you have not completed the course and are not satisfied.
Do I need to complete the course in an allocated time?
No, you may take as long as you like.
How many times can I view the videos/content?
You may view the videos and content as many times as you need before you finish the course.
How can I learn more?
Keep up to date with our course launches at https://linktr.ee/catgrooming
What if I need help?
We provide support by our facebook page , groups and email. 
Course Curriculum
Available in days

days after you enroll

Course contents