Master GENTLE CAT GROOMING
techniques that work with your cat clients,
not against them.


Cat Grooming?
Yes!
Pet ownership is exploding, and with the responsibility of pet parenthood, comes the obligation and privilege to care for them properly.
ALL cats need grooming, but unfortunately, there aren't enough professionals properly skilled in this area. 


Perhaps you're a grooming professional interested in adding a new skill set to your repertoire so you can fill service gaps and increase your income?


Would you like to offer your clients a more compassionate approach to having their cats groomed with minimal stress, spectacular results, and no sedation?
Check your inbox to confirm your subscription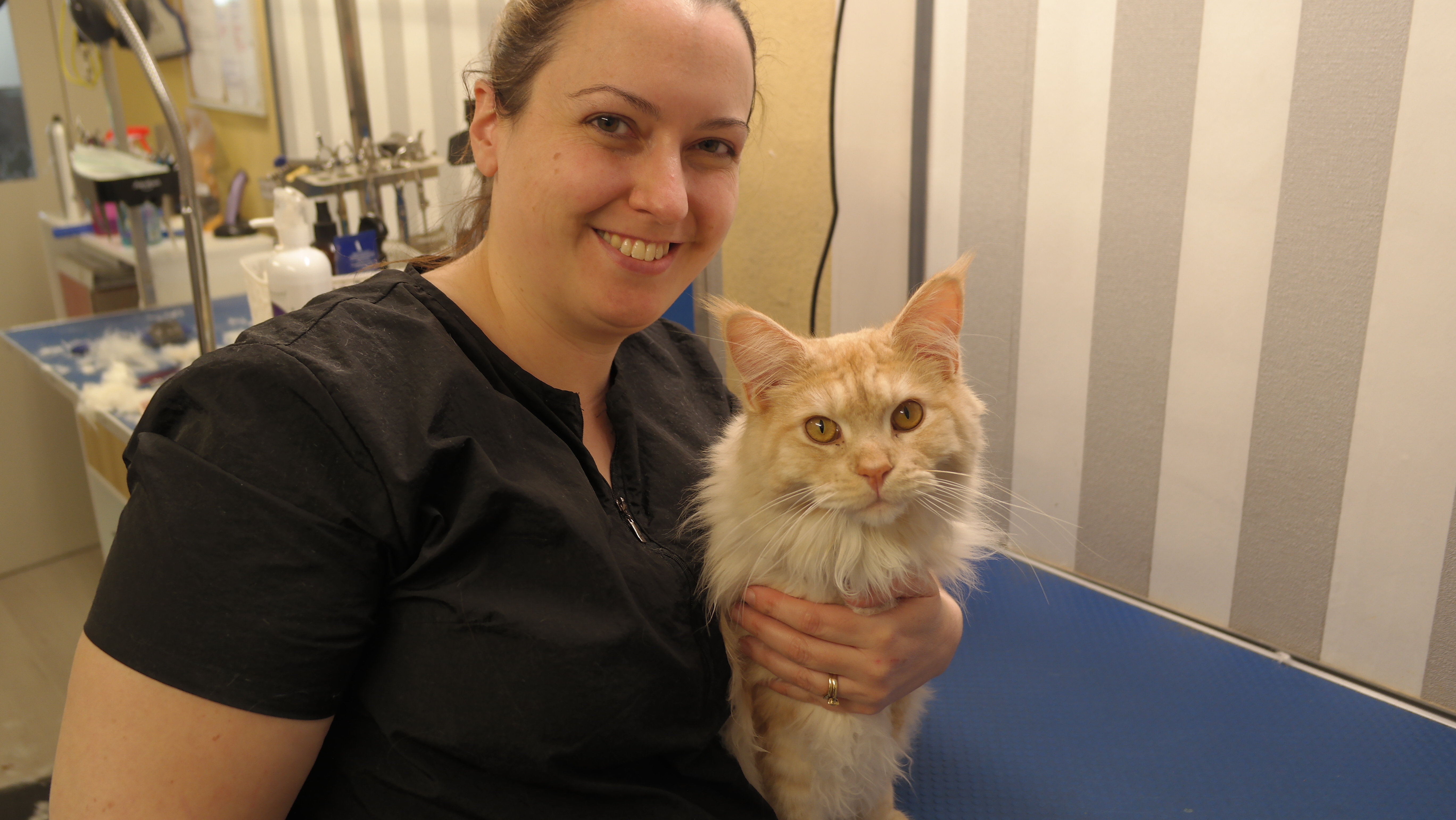 You've come to the right place.
I'm Lexie Goldsmith, Qualified Veterinary Nurse and award-winning Certified Master Cat Groomer of over 15 years.
I believe in low-stress handling for the absolute best results, and teach courses worldwide on just how easy and (enjoyable!) cat grooming can be using the methods I've developed and perfected over the years.


I use these techniques in my
salon
much to the delight of my kitty clients and their adoring owners – I'm rarely able to open my books to new clients. 
Learn how to:
Reduce matting through regular maintenance and prevention

Demonstrate gentle brushing techniques to clients for daily upkeep between appointments

Clip nails with speed and precision

Choose and use the best tools for grooming safely and effectively

Select the most suitable products by understanding their ingredients and the ways they work for different coat types and lengths

Utilise proven calm and low-stress  techniques for bathing and blow-drying gently

Carry out sanitary clipping and a variety of different trims and styles to suit different breeds and hair lengths

Utilise calming techniques such as towel wrapping  

Prevent fearful or aggressive behaviours before they start through a clear understanding of the cat's body language and stress signals 

And much more…
Bathing the Feline Preview
These
affordable online courses
are self-paced, and you can watch and rewatch them as many times as you'd like prior to completing the course to make certain you're comfortable with the technique and your mastery of it. Simply
purchase online
and log in – it's really that simple. You're ready to start your journey to purr-fection, and we're not kitten! Once you've completed the lectures and content, you'll receive a Certificate of Completion to display at your studio or salon. 


Choose from courses on
clipping
,
bathing
,
behaviour
- or all of the above. Easily equip yourself with the tools you need to confidently and knowledgeably groom any cat without adding to their fear, forcing acceptance of the procedure, or resorting to sedation. 


As an added bonus, professional students enrolled in courses receive FREE access to the private Facebook community where supportive members ask and answer questions, where you can network and brainstorm with like-minded professionals, and where you'll find an appreciation of all things cat-related.


 Each course has been researched, written and taught by me, and I stand by them with a 30-day money-back guarantee if you're not satisfied. You have so much to gain, and absolutely nothing to lose.
More than 15 years of PAWS-itive Cat Grooming!


Testimonials:
Cathie Win- Professional Cat Groomer: All professional courses
"Lexie explains grooming methods very well and shows them clearly in the videos. I have found both courses I have done had parts that I have now included in my own grooming. The courses have helped me immensely in showing I was doing grooming the same way and gave me more confidence in my methods."
Joanne Cresswell- Professional Cat Groomer, Courses: Bathing the feline, Clipping the feline and Behaviour for the cat groomer
"Definitely recommend anyone wanting to groom cats to do this course. As a dog groomer being able to add cats to my business has been a real advantage. Lexie's course has taught me so much and instilled confidence. My grooms and handling skills have improved 100%."
April D- Groomer, Shorthair Cat Grooming Maintenance Course
"The short course on shorthair cats gave me the boost of confidence I needed. The information is practical and helpful and the videos made it really easy to understand. So glad I enrolled! Thanks, Lexie"
Brianna E. Veterinary Nurse Received One-on-one training
"Being a vet nurse, I felt it important to learn how to groom cats. Lexie taught me this in a very professional and friendly manner. I observed her and was talked through it first, before having a go myself. It was much more difficult than I thought - especially when you have a strong cat like my Tom! There's a lot more to it than just shaving them - multiple different brushes & clipper blade techniques, handling techniques and very importantly, making it a stress-free experience as much as possible to the cat..... I can't recommend Lexie enough!"
Kim R- Cat Owner, Longhair Cat Maintenance Course
"We had tried for over 2 months to be able to groom our very scared Persian, the vet even gave her medication to calm her down and we couldn't get it done. Today using Lexie's calming and grooming techniques I managed to give her a full groom, no medications required!! She looks like a Persian again and is so fluffy and happy!"
Naomi F. - Professional Cat Groomer, Received One-on-one training
"Lexie's calm, careful, thorough training turned the daunting idea of washing a cat, into a skill set that has added growth to my business and allowed me to indulge my passion for felines! I am very proud to tell clients I was taught by Lexie."
Our Cat Professional Courses
View code