Knowing the correct way of grooming you feline is invaluable to your relationship and vacuuming schedule!


All you need to maintain your cat to prevent matting, reduce shedding and allergies.  


Bathing, blow-drying and brushing your cat at home.


Proven techniques by a qualified Veterinary Nurse and Master Cat Groomer.

Together lets:
-Reduce shedding
-Stop the scratches while bathing
-Reduce allergens and fur in your home
-Learn the professional's technique in grooming and handling correctly but calmly.
Recommended for Short haired cats such as the:
Domestic Shorthair
British Shorthair
Exotic Shorthair
Russian Blue
Siamese
British Blue
Bombay
Peterbald
Devon Rex
Scottish Fold
and More!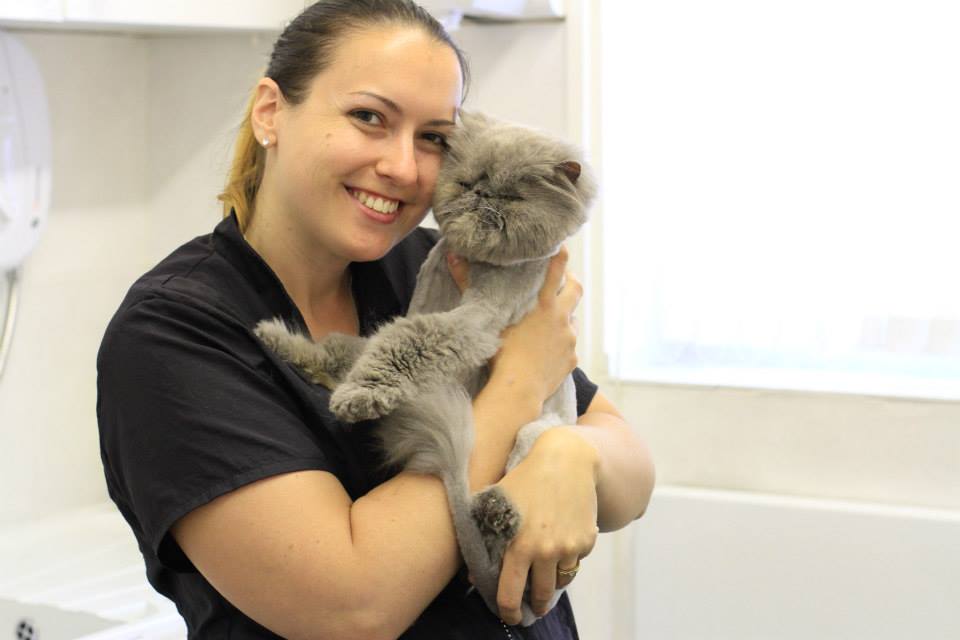 Hi, I'm Lexie, your Teacher!
I have been grooming cats without sedation for 13 years, and hold my Master Cat Grooming Certification (London Cat Grooming School) and Veterinary Nursing Qualification.
I am going to help you groom your cat comfortably at home.
What is included?
Why should I bath my cat? 
Coat and Skin information
Stud Tail
What is dander
What is dandruff?
What is feline Acne
Why is my cats bath rinsing a dark red?
Product selection (Shampoo, Coat sprays)
What shampoo should I choose?
Toxic ingredients
Label reading
Recommended Shampoos
Tool selection
Types of Combs
Setting up your grooming area
How often should I brush my cat?
Training your cat to enjoy grooming
Making ear protection
Bathing safely and effectively
Preparation of area and bath
Checklist of tools
Nail Clipping Video
Applying the First Shampoo
Rinsing
Applying the second Shampoo
Rinsing Properly
Face Cleaning
Towel Drying
Towel Wrapping
Blow-drying
Blow-drying video and instructions
Combing
How can I tell if my cat needs professional grooming?
See reviews from Students
Kim R- Cat Owner, Longhair Cat Maintenance Course
"We had tried for over 2 months to be able to groom our very scared Persian, the vet even gave her medication to calm her down and we couldn't get it done. Today using Lexie's calming and grooming techniques I managed to give her a full groom, no medications required!! She looks like a Persian again and is so fluffy and happy!"
April D- Groomer, Shorthair Cat Grooming Maintenance Course
"The short course on shorthair cats gave me the boost of confidence I needed. The information is practical and helpful and the videos made it really easy to understand. So glad I enrolled! Thanks Lexie"😁🐱"]
Brianna E. Veterinary Nurse Received One-on-one training
"Being a vet nurse, I felt it important to learn how to groom cats. Lexie taught me this in a very professional and friendly manor. I observed her and was talked through it first, before having a go myself. It was much more difficult than I thought - especially when you have a strong cat like my Tom! There's a lot more to it than just shaving them - multiple different brushes & clipper blade techniques, handling techniques and very importantly, making it a stress free experience as much as possible to the cat..... I can't recommend Lexie enough!"
Naomi F. - Professional Cat Groomer, Received One-on-one training
"Lexie's calm, careful, thorough training turned the daunting idea of washing a cat, into a skill set that has added growth to my business and allowed me to indulge my passion of felines! I am very proud to tell clients I was taught by Lexie."
FAQ's
Who are the courses for?
This course is made for Cat Owners with bathing, blow-drying, tool and product selection and combing videos.
The other courses are aimed at Professional Groomers, or those looking at becoming Professional Cat Groomers.
What if I am not happy with my course?
You are entitled to a refund within 30 days of purchasing the course if you have not completed the course.
Do I need to complete the course in an allocated time?
No, you may take as long as you like.
How many times can I view the videos/content?
You may view the videos and content as many times as you need before you finish the course.
Do you demonstrate de-matting techniques?
No, I do not recommend de-matting cats, there is too much risk and adverse effects of doing so.
How can I learn more?
Keep up to date with our course launches at http://eepurl.com/gnXJFv
What if I need help?
We provide support by our facebook page , groups and email. 
Course Curriculum
Available in days

days after you enroll

Course contents